Travel information
Flying to Portugal using our official carrier – TAP
Guimarães is located in the northwest of Portugal, approximately 350 km from its capital, Lisbon, and about 50 km from the city of Porto. The nearest airport to Guimarães is the Francisco Sá Carneiro Airport in Oporto, which is about 50 km from Guimarães.
If you use our official carrier, TAP, you can benefit from a 10% or 20% discount. The promotional code and conditions of this special rate are described in this PDF file.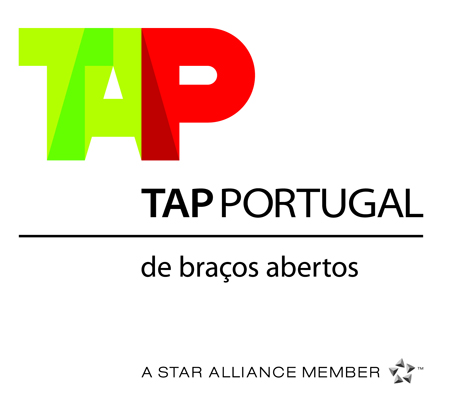 Traveling from Porto to Guimaraes – General information
The most direct means of access for those who want to travel to Guimarães are road and rail routes. Traveling by road using the existing network of highways, Guimarães is located about 30 minutes from the city of Porto (A3 and A7), 15 minutes from the city of Braga (A11), 90 minutes from the city of Vigo (A3 and A7), and 180 minutes from the capital, Lisbon (A3, A7 and A1). The electrified line rail connects various destinations in Portugal, which allows the movement from Guimarães to the city of Porto, and vice versa, taking approximately 60 minutes. More information can be found in http://www.cp.pt/
The Getbus bus company proposes a transfer service between the Oporto airport and Guimarães or Braga. Schedules here.
Suggested travel
If you come from abroad, please make your travel arrangements preferably to fly to Porto (OPO).
From Porto airport to Guimarães it is about 50 km and you can:
Take a taxi (about 60 €, good if you are a group of 3) or the GETBUS; or,
Take the Metro to Campanhã train station, direct. After leaving arrivals area, follow the Metro signs to the -1 floor, get a pre-boarding Z4 ticket (Andante) from machines and validate it before boarding; 33-36 min., 1,80 € (+ 0,50 € the first time so keep the Andante as you can reload it next time);
In Campanhã train station get a ticket (3,00 €) and take the urban train to Guimarães, 1 h 11 min., direct, no changes.
From Guimarães train station, walk or take a taxi to the hotel (Hotel Fundador and Hote Guimaraes are very ner to the station)
If you prefer to travel to Lisbon, you can get to Guimaraes by bus (about 5 hours, about €20) or by train (about 4 hours, about €25).

Maps
Universidade do Minho
Campus de Azurém
4800-058 Guimarães
Portugal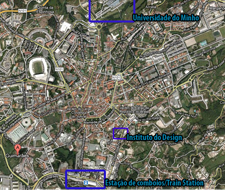 Instituto de Design
Rua da Ramada 52-68
Guimarães
Portugal