Oradores convidados - Keynote speakers
5 de novembro, 9h15, Auditório Nobre
MOISÉS DE LEMOS MARTINS

Declinações trágicas, barrocas e grotescas na moda contemporânea
Tragic, baroque and grotesque declinations in contemporary fashion
Resumo
É meu propósito tomar a moda como metáfora da nossa actual condição. O meu corpus de análise são as criações do estilista britânico Alexander McQueen, que valorizam as formas trágicas, barrocas e grotescas na expressão artística. Esta tipologia de formas é avessa, tanto à ideia de totalização da existência, como à da sua perfeição e harmonia. Trata-se de formas que declinam um destino sacudido pela vertigem do fragmentário, do marginal, do mundano e do profano, dando-nos a ver, além disso, o carácter viscoso, sinuoso, titubeante e labiríntico da condição humana. As criações de Alexander McQueen, que convoco nesta conferência, permitem-me dar conta, com efeito, de uma importante translação na cultura contemporânea: de "animal da promessa", como o havia definido Nietzsche, o homem passou a animal em "sofrimento de finalidade" (Lyotard). Incapaz de prometer, o homem contemporâneo revê-se sobretudo nas figuras que acentuam a sua condição transitória, tacteante, contingente, múltipla, imponderável, nomádica e solitária.
Abstract
It is my purpose to take fashion as a metaphor for our current condition. The creations of British stylistic Alexander McQueen, which value the tragic, baroque and grotesque forms in the artistic expression, are the object of my corpus analysis. This typology of forms is averse to both the idea of existence totalization and of its perfection and harmony. The question is the forms that decline a destination shaken by the fragmentary vertigo, the marginal, the mundane and the profane, giving us to see, moreover, the viscous, twisty, tottering, labyrinthine character of the human condition. Alexander McQueen's creations, which I examine in this conference, allow me to sign in fact an important translation in contemporary culture: from "animals of promise", as Nietzsche had set, the man converted itself into animal "suffering of purpose" (Lyotard). Unable to promise, contemporary man sees himself clearly mainly on figures that emphasize its transient, groping, contingent, multi, imponderable, nomadic and solitary condition.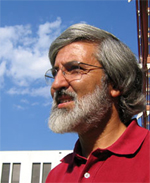 Moisés de Lemos Martins é Professor Catedrático do Departamento de Ciências da Comunicação da Universidade do Minho (UM) e Diretor do Centro de Estudos de Comunicação e Sociedade (CECS) desta mesma universidade. Ensina Semiótica, Sociologia dos Média, Teoria da Cultura e Cibercultura. Foi Presidente do Instituto de Ciências Sociais da Universidade do Minho, de 2004 a 2010, tendo exercido idênticas funções de 1996 a 2000. Foi um dos fundadores da SOPCOM – Associação Portuguesa de Ciências da Comunicação, a que preside desde 2005. Preside igualmente à LUSOCOM – Federação Lusófona de Ciências da Comunicação e à CONFIBERCOM - Confederação Ibero- Americana das Associações Científicas e Académicas de Comunicação. Doutorado em Ciências Sociais (na especialidade de Sociologia), pela Universidade de Estrasburgo, dirige a revista Comunicação e Sociedade, que fundou em 1999. Publicou, entre outros livros, Crise no Castelo da Cultura - Das Estrelas para os Ecrãs (Coimbra: Grácio Editor, 2011; edição brasileira: São Paulo: Annablume); Semiótica. (UM http://repositorium.sdum.uminho.pt/handle/1822/996); A Linguagem, a Verdade e o Poder. Ensaio de Semiótica Social (Lisboa, Fundação Calouste Gulbenkian & Fundação para a Ciência e a Tecnologia, 2002); A Romaria da Sn.ª da Agonia. Vida e Memória da Cidade de Viana/The Lady of Viana Festivities. Life and Memory of Viana Town (com Albertino Gonçalves e Helena Pires, Viana do Castelo: Ed. do Grupo Desportivo e Cultural dos Estaleiros Navais de Viana do Castelo, 2000); Para uma Inversa Navegação. O Discurso da Identidade (Porto, Afrontamento, 1996); O olho de
Deus no discurso salazarista, (Porto, Afrontamento, 1990).
Editou, entre outros livros, Portugal Ilustrado em Postais – Viana do Castelo, Braga, Bragança, Viseu e Portalegre (com Madalena Oliveira, Braga: CECS, 2011); L'imaginaire des médias. Numéro 111 da revista Sociétes (com Michel Maffesoli, Bruxelles: De
Boeck, 2011); Imagem e Pensamento (com autores vários, Coimbra: Grácio Editor, 2011); Comunicação e Lusofonia, Para uma análise crítica da cultura e dos media (com Helena Sousa e Rosa Cabecinhas, Porto: Campo das Letras, 2006).
 

__________________________
5 de novembro, 18h00, Auditório Nobre
ARTURO DELL'ACQUA BELLAVITIS
New emerging global trends in the creative and productive processes
Novas tendências globais emergentes nos processos creativo e produtivo
Abstract
In a society where something and its opposite are both valid, where can fashion be positioned? Which are its actual characteristics? What does 'making fashion' mean? Is someone 'making' fashion today? Or someone is only making someone else making fashion? The western creative offices or the eastern manufacturers? The designer, the artisan, the creative director, the stylist, the manager? How many fashion S are there? Are brands alive or surviving? Is there a future for DIY people and makers? Can fashion be global? And can fashion remain local? Can creative processes be exported? And the productive ones? Through case studies these rising developments and directions regarding fashion will be discussed.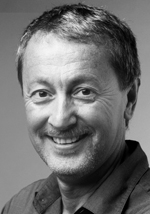 Arturo Dell'Acqua Bellavitis is the Dean of the School of Design and Coordinator of the Board of Department Directors in Politecnico di Milano. Full professor of Industrial Design in the Design School of Politecnico di Milano, he supervises University Master Courses in Design Management, Interior Design and Fashion Design. Since 1997 he has been supervising the post-degree course in "Manager for Points of Sale Interiors" arranged by the Polytechnic of Milan and Federmobili, which is in the fifteenth edition.
He has been vice-president of the Triennale Foundation of Milan for eight years where he developed the project of the Design Museum. Is currently the President of the Triennale Design Museum Foundation. He is actual President of MFI Milan Fashion Institute a university consortium among Politecnico di Milano, Università Bocconi and Università Cattolica in the area of Fashion Design and Management. He is also President of Ar&dent (Art Design and New Technologies) a university consortium between Politecnico di Milano ed Accademia di Brera.
__________________________
6 de novembro, 9h00, Auditório Nobre
MARIA DE FÁTIMA DA S.C.G.DE MATTOS
Arte e Moda: entrelaçando os saberes.
Dialogues between Art and Fashion: the intertwining knowledge.
Resumo
O diálogo entre os vários suportes artísticos e a moda tem sido alvo de constante reflexão acadêmica na contemporaneidade, evidenciados pelo vocabulário imagético que emprestam uma área das outras, como uma forma de apropriação intercambiável a revelar a sintonia com próprio tempo. Emblemas da modernidade inquieta e sensível, souberam traduzir ruptura, transformação, inovação, através da linguagem visual das vanguardas artísticas do século XX, respaldado pelos novos padrões estéticos e formas de existência humana.
Abstract
The dialogue between the various artistic media and fashion have been constantly thinking in contemporary academic, evidenced by imagistic vocabulary that lend an area of the other, as a way to reveal the ownershipswap line with own time. Emblems of modernity restless and sensitive knew translate rupture, transformation, innovation, through the visual language of the artistic avant-gardes of the twentieth century, supported by newaesthetic standards and forms of human existence.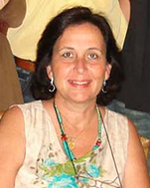 Maria de Fátima da S. C. G. de Mattos é Doutora em Artes pela ECA/USP e Mestre em História e Cultura pela FHDSS/UNESP. Professora e pesquisadora do Centro Universitário Moura Lacerda (Rib.Preto/SP) na área de Educação, Arte e Cultura. Pesquisadora do Grupo de Pesquisa do CNPq "Moda, cultura e historicidade" (SENAC).
__________________________

7 de novembro, 9h00, Auditório Nobre
A confirmar - To be confirmed